The 6 Pack Band, India's first transgender band, has burst onto the music scene with the release of their first single titled "Hum Hain Happy." The song is a cover of the well-known Pharrell Williams hit "Happy" and features a very colorful music video as shown above. We are already looking forward to the next release from this groundbreaking group of ladies.
The following is from the official press release provided by Y-Films:
Wednesday, January 6th, 2016: India's 'Hijra' community, as they're referred to, comprises of transsexuals and transgenders. The community is commonly ignored by most, tolerated by some and misunderstood by all. However, in spite of all the prejudice they face in our society, they choose to smile and remain 'Happy'. Yash Raj Film's youth films wing, Y-Films joins hands with Brooke Bond Red Label to give a voice to their indomitable spirit without trying to get preachy or patronizing, in a language and through a medium that our world understands and loves; the language of Music, with the launch of India's and, possibly, the world's first transgender band – the Brooke Bond Red Label 6-Pack band!
It's a theme that is extremely relevant, topical & important to make the world a warmer and more welcoming place for everyone – irrespective of religion, economic background or gender. The Brooke Bond Red Label 6-Pack band has been curated by composer Shameer Tandon and comprises of 6 transgender singers hailing from India's 'Hijra' community that will be releasing 6 songs backed by 6 music videos. The album kick-starts with a single that captures their never give up, never stop smiling attitude – a fantastic cover rendition of Pharrell William's global hit 'Happy' – as 'Hum Hain Happy' which was unveiled by one of India's most respected singers Sonu Nigam.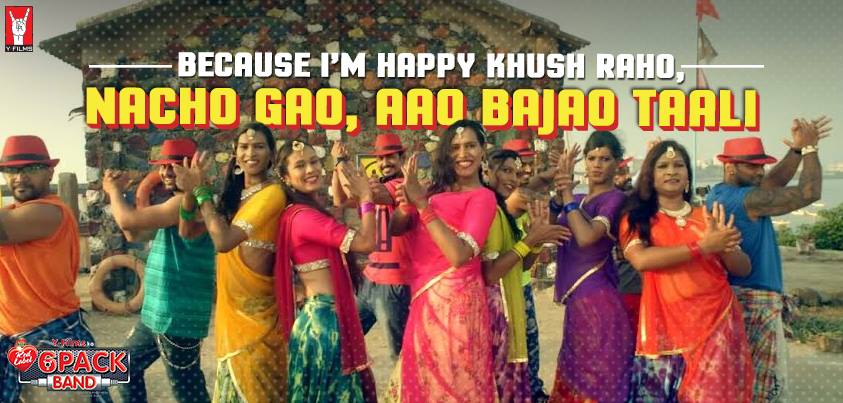 One of the industry's youngest and most talented actor-producers, Anushka Sharma, who introduces The Brooke Bond Red Label 6-Pack band in their first music video had this to say, "I believe that all living beings should be treated with the same respect and dignity. This song is one way to get everyone to tune in to that one thought and beat. Because often where words fail, music speaks."
Head of Y-Films, Ashish Patil adds, "We truly believe that in spite of all our differences, we all dance to the same beat. Irrespective of caste, creed, religion, economic status and gender.  And it is music that brings us all together. This is Y-Films' most important project till date and we are thrilled to have partners like Brooke Bond Red Label on the dance floor with us. And someone like Mindshare who played DJ and got us together. With this we can hopefully make the world, not perfect, but certainly a better, more inclusive and happier place for everyone. One song at a time."
Speaking about the association with the 6-Pack Band, Brooke Bond Red Label spokesperson, Shiva Krishnamurthy said, "Brooke Bond Red Label believes in making the world a more welcoming place by diffusing socially awkward situations. We encourage people to live those little moments that bring us all closer by breaking barriers over a cup of tea. This time we chose the medium of music to spread this message. We are happy to partner with Y-Films to present the Brooke Bond Red Label 6-Pack Band and hope that it will be loved by one and all."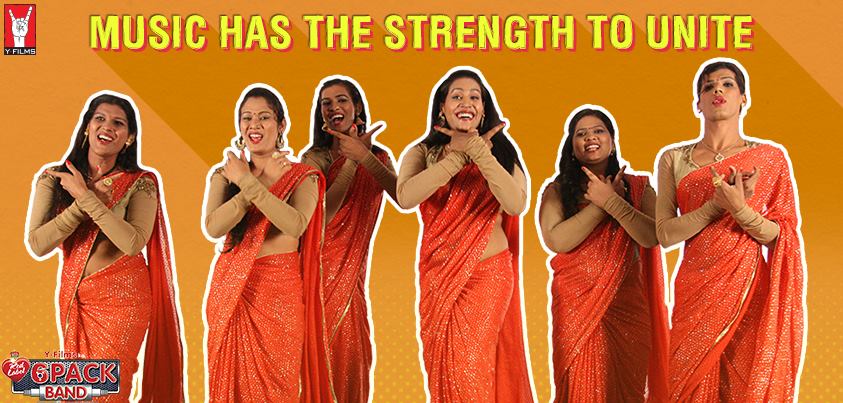 We've seen this theme reflect across popular culture across the globe – be it with Laverne Cox picking up multiple awards for 'Orange in the New Black' and being on the cover of Time magazine, or Transparent the series cleaning out the Golden Globes & Emmys. The courage of Bruce becoming Caitlyn Jenner to the Indian Supreme Court recognizing the 3rd gender in a landmark judgment. From President Obama being on the cover of an LGBT magazine to the efforts being made to decriminalize section 377. While members of the transgender community start playing active roles in our society including that of college principals, police officers and more… we as a society still have a long way to go. Hopefully enjoying their music will take us closer to where as a world we should be. And if nothing else, make us 'Happy' 🙂
About Y-Films:
Y-Films is the dynamic, vibrant start-up at the intersection of films, creativity and youth culture that hopes to challenge the norm and detonate boundaries. Giving the youth a creative outlet and voice that will entertain and unite on film and beyond. A studio that promises to deliver kick ass content of the youth, by the youth, for the youth. And be a platform for talent – both on screen and behind the scenes – that will break and set new rules of story-telling.