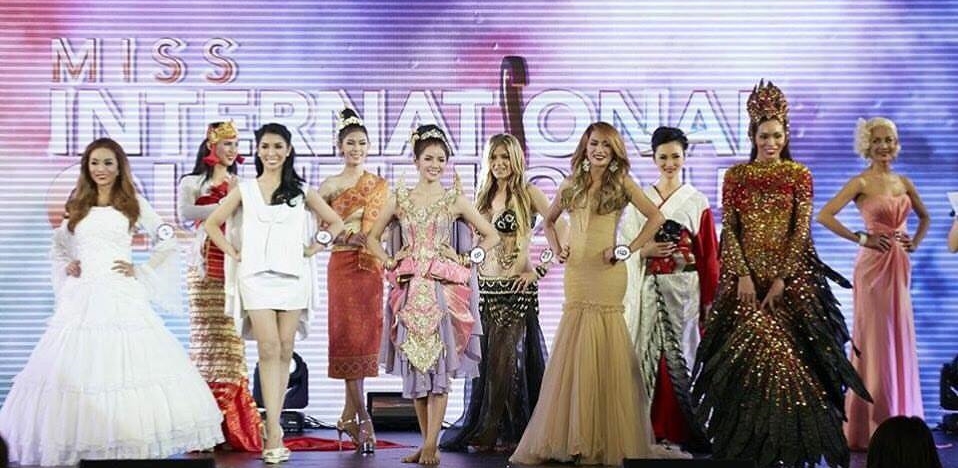 We had a lovely time at the Miss International Queen 2015 event held yesterday at Central World in Bangkok. All of the contestants introduced themselves while proudly showcasing their national costumes and 10 of the lovely ladies also took part in the talent competition in front of a large, celebrity filled crowd.
The talent contest was won by Taliah (No. 21) from Australia after she wowed the judges with a Skakira inspired belly dance routine. The first runner-up was also from Australia, Sofiya Iya (No. 9) showed off her singing skills while performing a quick-change act that had her peeling off several dresses in succession.
Select images below to view larger size.
The national costume winner will be announced next week during the finals held at Tiffany's Show Theater in Pattaya. But let there be no doubt, the clear favorite to win is talent runner-up Sofiya Iya from Australia. Her Sydney Opera House dress was a real showstopper that featured it's own integrated light display. Our hats go off to the designers of her amazing costume.
We enjoyed meeting and speaking with all of the lovely contestants backstage and seeing their national costumes up close. We were impressed by the beauty and charm of so many ladies, but we came away with a few favorites. Our top three include Sopida Siriwattananukoon (No. 8) from Thailand, Francine Garcia (No. 22) from the Philippines and Sora Sakuragi (No. 23) from Japan.
Thank you and good luck to all of the Miss International Queen 2015 contestants.